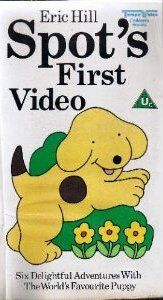 Spot's First Video is a UK VHS release by Tempo Video Children's Stories and M.S.D Video Distribution Ltd on 3rd October 1988, and then it got re-released by Abbey Home Entertainment Distribution on 4th March 1991, and it got repackaged with a new video cover by Tempo Pre-School and Abbey Home Entertainment in 7th June 1993.
Spot's First Video is a series of cartoons based on the best-selling books for children by Eric Hill, featuring Spot - a young puppy, Sally and Sam - his mother and father, and several of his friends. The films deal in a simple and entertaining way with everyday happenings familiar to children the world over.
Spot's Surprise Parcel - Spot wakes up and has his breakfast, then he hears a knock on the door. It's the postman bringing him a special parcel.
Spot's Lost Bone - Spot can't remember where he has put his bone, but he certainly has a lot of fun looking for it.
Spot's First Walk - Spot goes out in the garden for the first time on his own.
Spot In The Woods - Spot goes for a walk in the woods with his Dad, Sam, and looks for lions, tigers, elephants and bears.
Spot's Birthday Party - Spot really enjoys his birthday party especially when he and his friends play hide and seek.
Where's Spot? - It's dinner time but Spot goes missing. Spot's Mum, Sally, goes looking for him.
Running time: 30 minutes approx.
Community content is available under
CC-BY-SA
unless otherwise noted.