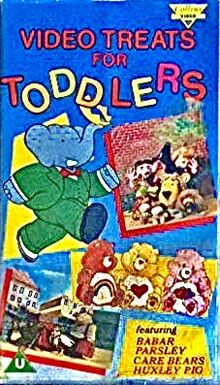 Video Treats for Toddlers is a UK VHS release by Collins Video and Tempo Video Children's Stories on 2nd April 1990. It contains four stories from four children's TV characters which are "Babar", "Parsley the Lion", "The Care Bears" and Huxley Pig.
BABAR - TO DUET OR NOT TO DUET
Babar is scheduled to a perform a duet with a great pianist. However, he refuses to admit the piece of music is too hard for him, so he procrastinates practicing until he feels so guilty that it affect his job as King.
PARSLEY - THE ADVENTURES OF PARSLEY
Dill buys a television set but no-one else get a look in.
CARE BEARS - THE FROZEN FOREST
The crew of the S.S. Friendship is in big trouble when Beastly and Shreeky plan to use a freezing ray to turn them into ice.
HUXLEY PIG - HUXLEY PIG GOES CAMPING
Putting up a tent presents a problem to Huxley and Sam, until Assistant Rodent Cub Scout Patrol Leader Horace takes a hand. When the guides arrive Ethel takes charge and has everyone running around - especially Horace.
Community content is available under
CC-BY-SA
unless otherwise noted.