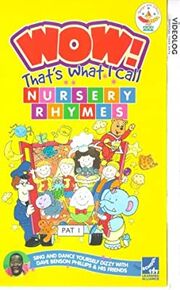 Wow! That's What I Call Nursery Rhymes was released by Tempo Pre-School on 11th October 1999 and for the first time on DVD on 1st February 2004.
Dave Benson Phillips
Katy Stephens
Marianna Neofitou
Jade Hill
Ashley Horne
Alex Bird
Hayley Wareham
Stefan Abingdon
Postman Pat
Bump the Elephant
SuperTed
This Old Man
Polly Put the Kettle On
Do You Know the Muffin Man?
Simple Simon
Pat a Cake, Pat a Cake
Old King Cole
Postman Pat
Jack and Jill
Humpty Dumpty
Little Jack Horner
Little Bo Peep
Mary Mary Quite Contrary
Sing a Song of Sixpence
Hickory Dickory Dock
Little Miss Muffet
1, 2, 3, 4, 5
Baa Baa Black Sheep
Hey Diddle Diddle
Twinkle Twinkle Little Star
Bobby Shaftoe
Rub a Dub Dub
A Sailor Went to Sea, Sea, Sea
Row, Row, Row Your Boat
The Grand Old Duke of York
Community content is available under
CC-BY-SA
unless otherwise noted.